State Parks and Nature Preserves around Venice offer unique possibilities to enjoy the tropical flora and fauna of Southwest Florida.
Venice Nature Preserves
Everybody knows the Everglades – from a personal visit or at least a travel book. They are worth a trip – no question.
But do you know, that Sarasota County around Venice offers a large variety of chances to meet the real Florida with its incomparable Flora and Fauna? Far away from tourist crowds there are especially fascinating landscapes and nature preserves, that are best to explore by foot or bike. You may use the County's website for more info.
Please have a look at the following selection of great destinations.
Lemon Bay Preserve
The size of the beautiful nature preserve is more than 220 acres. It is located only a 20 minute walk from Villa Happy Gator. A number of trails invite to walking or jogging. If you are lucky, you will meet a unique species, that exists only here in South Florida: The Florida Scrubjay!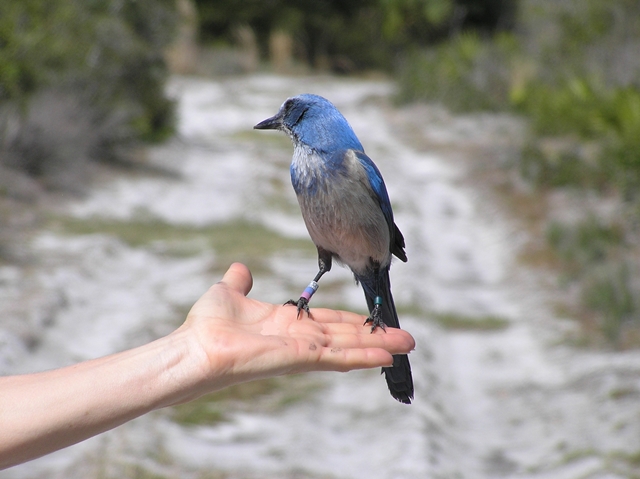 Shamrock Park
Less than 2 miles away from our vacation home lies Shamrock Park, a fantastic city park and nature preserve with a trail system for walking, running or biking within typical Florida vegetation, tennis courts and a great playground for the youngsters. Shamrock Park is situated directly at the Venetian Waterway Park, which extends along the Intercoastal Waterway.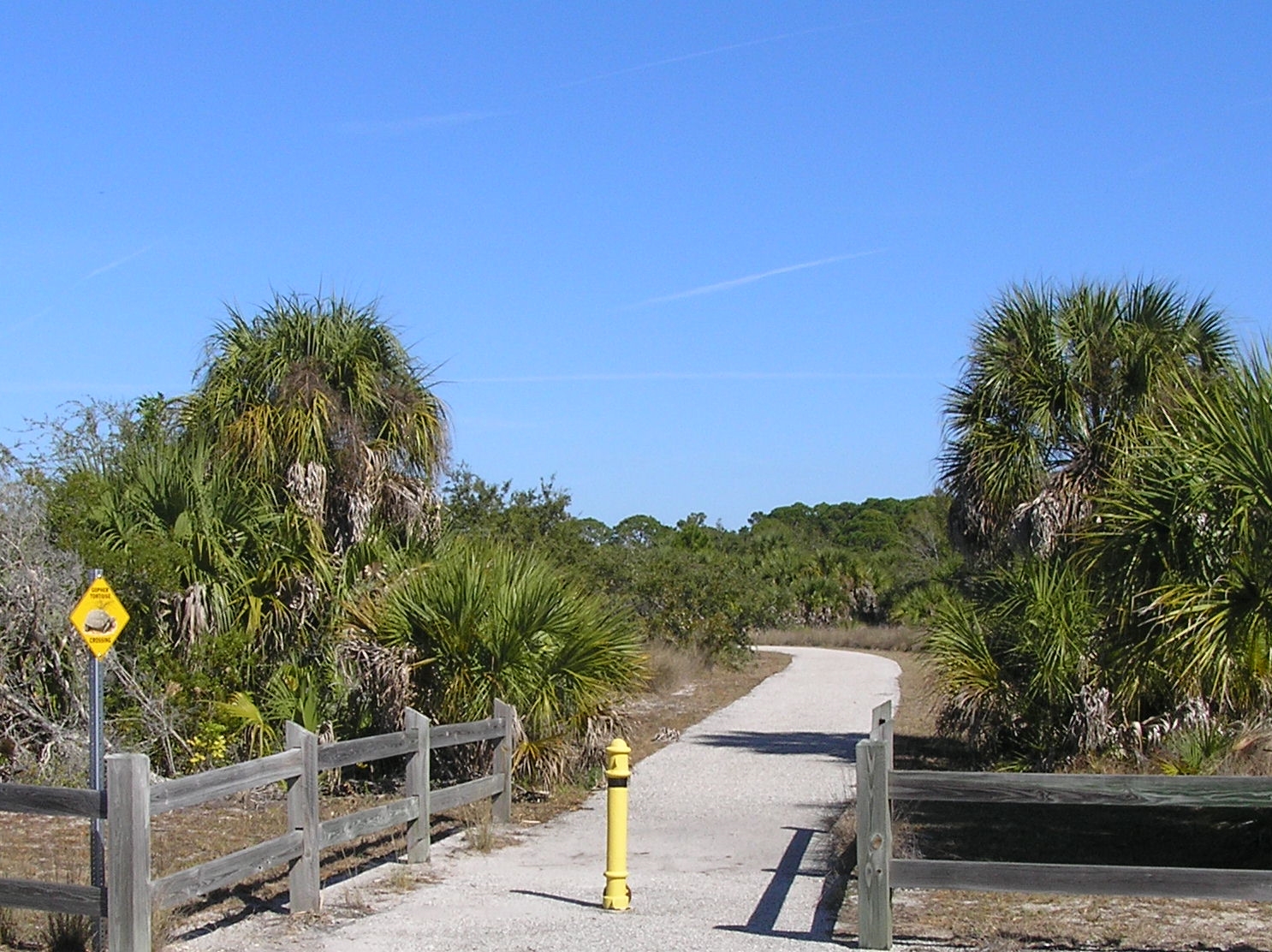 Oscar Scherer State Park
A must-see for all Florida Visitors in this area. This 1400 acres nature preserve offers a beautiful insight in different vegetation zones. Take the trail along South Creek and you will see a magical river scenery.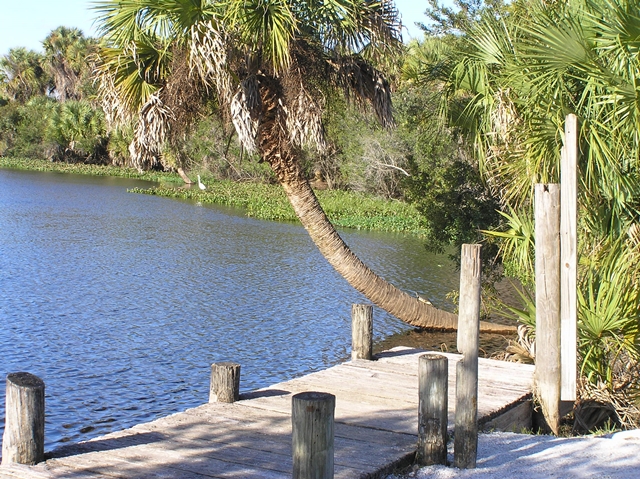 Myakka River State Park
This is another wonderful Park no Florida visitor should miss. It is one of the oldest State Parks in Florida. Through the Western part of the park meanders a picturesque 14 mile long section of the shallow and winding Myakka River, which is protected as Florida Wild and Scenic River.
At the Western entrance there is a ranger station and the visitor center. The visitor center offers video introductions and exhibits of wildlife and its living space. Not far from there is the trail head of the Boylston Nature Trail, a half an hour loop trail, that leads to Myakka's Canopy Walkway, that extends 85 ft. It was built in 2000 and offers a view of the life in the tree tops 25 ft above the ground. The bridge ends at a 74 ft high observation tower that offers a fantastic view of the park.
Along SR 72 there is a 7 mile long paved road alongside the shores of the Upper Myakka River. Additional 19 miles of unpaved roads and more than 40 miles of hiking trails lead through the park area. At the Upper Myakka Lake you will find the Birdwalk, a 1000 ft long boardwalk perfect for watching birds. Who wants to see some Alligators – here you will find them!
More info on the official Website of the Park.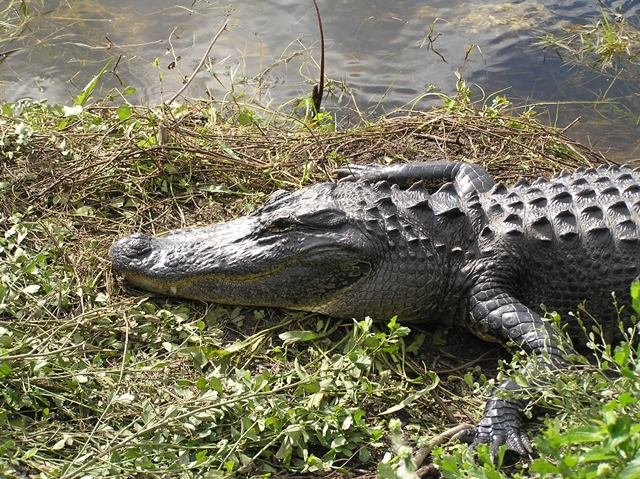 Jelks Preserve in Venice
This pretty nature preserve is a must see for all nature lovers. You may walk on more than 8 miles well kept trails within Florida's original landscape. Meet many endemic species. Let us inspire you  here!

Sleeping Turtle Preserve North, Venice
This Preserve nestles on the Myakka River and has earned its place in our top ten. The narrow trails meander through a beautiful and dense forest area. In several places you have access to the river and, moreover, with a little luck you can see an alligator. The car park is located on the northern side of Border Road, about 20 minutes drive from the cottage.
It's open from sunrise to sunset. Admission is free. Information and directions here.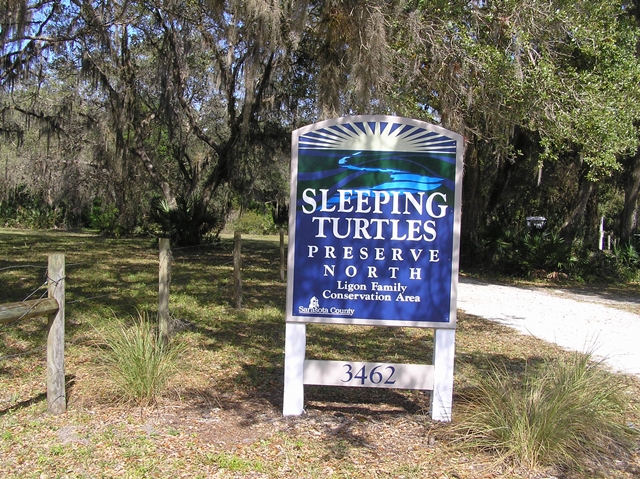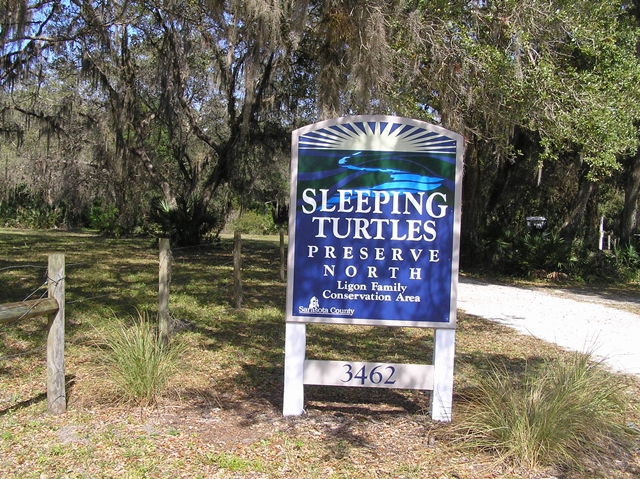 Rothenbach Park in Sarasota
This well kept community park hast lovely trails and playgrounds. It is special, as it is built above an old dump area and shows the result of a successful renaturation. Info here.

Alligator Creek Trail in Venice
As a part of the Woodmere Parks this beautiful trail was created along the → Alligator Creeks angelegt. It is perfect for a walk after a delicious meal in one of the nearby restaurants. I
Challenger Park in Venice
Challenger Park is a small neighbourhood park, only a few blocks away from your vacation home. It is ideal for a sponateous visit to romp around with the kids. There is a playground, a volleyball field, picknick tables and a large play area. Info here.

Mote Marine Laboratory & Aquarium Sarasota
If you are in the Venice area, be sure to visit this fantastic presentation of marine life in Sarasota. Read more here.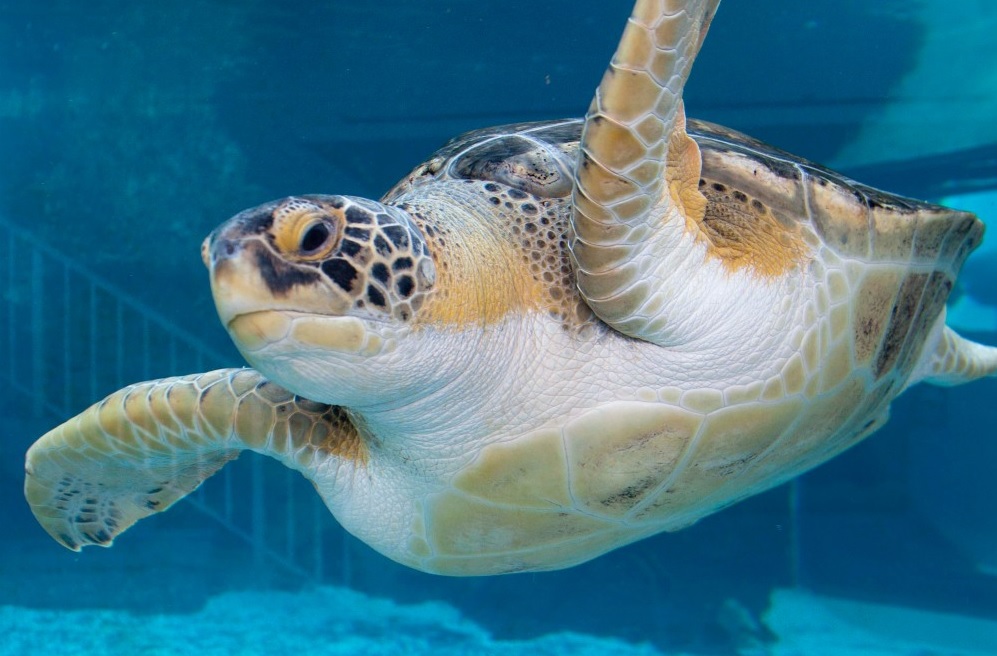 Octagon Wildlife Sanctuary in Punta Gorda
For animal friends this lovingly managed sanctuary is a great destination for a day trip. Read more here.
Venice Area Audubon Rookery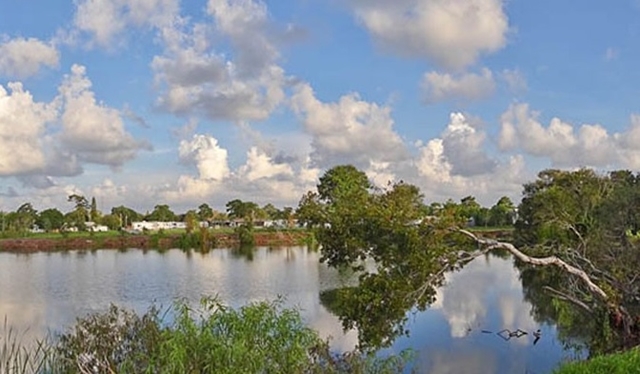 Our Rookery is a true insider tip for all bird lovers. It is freely open to all visitors from dawn to dusk every day of the year.
The Rookery island's deep lake is small enough so that from the shaded pavilion benches you hardly need binoculars for a clear view of the birds. Tangled invasive plants have been replaced by Florida-friendly vegetation so you can easily walk around the edge of the lake and watch bird activity on all sides of the island.
During nesting months (usually beginning in December and lasting through May), daytime activity includes Great Blue Herons, Great Egrets, Anhingas, Snowy Egrets, Cattle Egrets, Glossy Ibises, Green Herons, Tricolored Herons and Black-crowned Night-Herons busily building or enhancing nests, courting, incubating eggs, and raising chicks.
The Rookery is located 4002 S Tamiami Trail via, Annex Rd. Please have a look at the fantastic website of The Venice area Audubon Society: http://veniceaudubon.org/