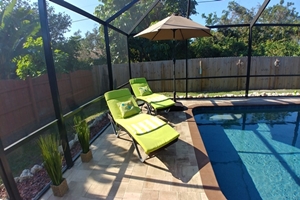 Relaxing
Just imagine yourself sitting in a comfortable chaise, a cool drink nearby and a good book or magazine to read. When you look up you see the blinking surface of the pool water, promising a refreshing experience. The privacy of our backyard protects you from any disturbance. Maybe a colorful bird or some squirrels are showing up. Could life be better?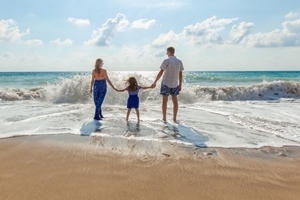 Family Time
Vacation time is Family time. These are the days you have been looking forward to. One of the best places to enjoy the time with your loved ones is the beach. Venice has miles of beautiful shoreline to offer. Looking for shells or for the world famous fossil shark teeth of Venice is fun for all. After a day at the beach, gathering together on the large pool deck, having a barbecue is the perfect ending of a perfect day.
Exploring the Charm of Venice
The Historic Downtown of Venice has a unique architectural character. The beautiful houses and streets in a Northern Italian Renaissance style are perfect for a stroll. Main Street area has dozens of little stores, boutiques and art galleries. Have a cup of coffee and some delicious ice cream in a comfortable atmosphere. Spend the evening with family or friends in one on the numerous stylish restaurants and bars.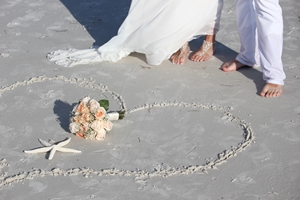 Romance in the Air
Wouldn't it be wonderful to marry on the beach? How about renewing your vows in an unforgettable surrounding? You are planning your Honeymoon and looking for a romantic getaway with privacy and close to the Gulf Coast? Just imagine. Let us help to create memories that last a lifetime. We are working together with one of the finest ceremony professionals in South Florida.
Feel Free to Ask
Don't hesitate to ask us any questions, that you may have regarding the property, the rooms, the area, availability, booking or anything else, that`s on your mind. We are online every day and we are here for you.