There are a lot of museums and attractions in South Florida. Let us present a few that you should not miss!
Historic Spanish Point in Osprey
Historic Spanish Point is an open air museum in Osprey that offers unique possibilities to enjoy a trip back into history – and has nothing to do with Spaniards!
With an archaeological record that encompasses approximately 5,000 years of Florida prehistory, this National Register of Historic Places museum is referred to as one of the largest intact actively preserved archaeological sites of the prehistoric period on the Gulf Coast of Florida.
The museum's "A Window to the Past" exhibition is the only place in the country where visitors go inside a prehistoric shell midden and are surrounded on three sides by evidence of the past.
Historic Spanish Point is a significant environmental site, and its location on the shores of Little Sarasota Bay offers the unique opportunity to view different habitats as well as plant and tree combinations. Native plants representing over 50% of the species found in the county can be enjoyed along the nature trails and boardwalks, including a pristine mangrove shoreline. The Butterfly Garden, one of the largest in Florida, attracts not only avid photographers, but many species of insects and birds.
Historic Spanish Point is located at: 337 N Tamiami Trail, Osprey, Fl 34229, only 13 miles/20 minutes from Villa Happy Gator, your Venice vacation home.
The hours are 9am-5pm Monday to Saturday and Noon to 5pm on Sundays. They are closed Thanksgiving, Christmas, and Easter. Please contact them before visiting for actual hours: www.historicspanishpoint.org, 941-966-5214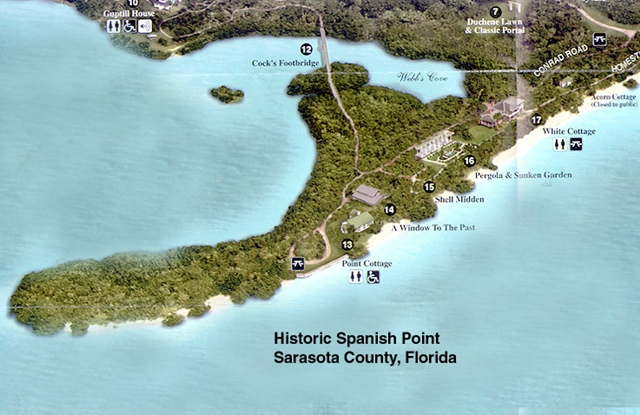 "The Ringling" in Sarasota
Don't miss to visit this extraordinary and impressing piece of Art when you are on Venice vacation. It provides exhibitions, a circus museum and beautiful gardens.
In the early 20th century, the Ringling family possessed the world's greatest circus. The Ringling Museum of Art represents a museum of art with more than 600 paintings, sculptures and decorative art objects. The residential building Cá d'Zan in the style of a Venetian palazzo served the Ringlings as a winter residence. It has two floors, vaulted ceilings, crystal chandeliers from the Waldorf-Astoria Hotel in New York. Tapestries show figures of mythology.
"The Ringling" is located on 5401 Bay Shore Rd, Sarasota, FL 34243, about 40 minutes from Villa Happy Gator. Please go to the website for more information https://www.ringling.org/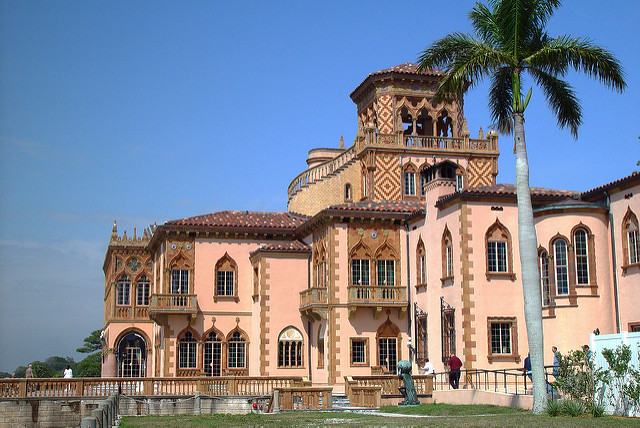 Mary Selby's Botanical Gardens
This beautiful botanical garden is really worth a trip on your Venice vacation, even if you are not an extreme flower and plant lover. The Mary Selby Botanical Gardens situated on a peninsula south of downtown Sarasota. You will find more than 6,000 orchids and 20,000 colored plants. Of particular interest is the Tropical Display House with its magnificent orchids. Children love the Children's Rainforest Garden.
More infos on their website http://selby.org/