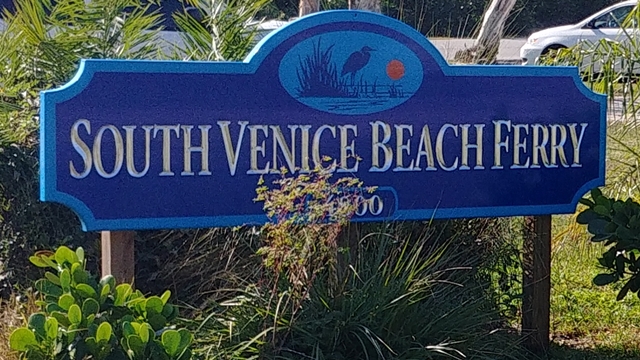 Come and visit our piece of paradise! 3 miles of pristine beaches, natural landscape, and quiet surroundings are waiting for you. Take a walk along the beach shoreline, look for some shells or find some of the world famous fossil shark teeth. Refresh yourself in the clear blue ocean, maybe do some snorkeling or paddling. Or simply sit at the beach and enjoy the relaxing atmosphere of this unspoilt piece of nature.
It is a great feeling. Once you walk across the boardwalk from the ferry dock to the "private beach", you are in a different world.
"South Venice Private Beach" History
Fifty years ago, South Venice residents walked to the beach on wooden footbridges that spanned Lemon Bay's northern tip. When the Intracoastal Waterway was built in the 1960s, residents sued for beach access and wound up with the ferry service. Pilings from an old bridge stand next to the ferry dock on the Manasota Key bayside.
A sign tells the story: "Thank You, Residents of 1965. Your efforts gave us this ferry. We pledge to preserve South Venice Beach for our children and their children. — South Venice residents, May 9, 1998."
Until 2008, the "South Venice Beach Endowment Trust" managed the 8 acre beach property. To guarantee legal stability, the trust sold the beach to Sarasota County. The county – as the new owner — is bound by the original restrictions from the 1950's deed. Until today the residents of South Venice are very proud about their "Private Beach".
No daily or weekly, only monthly and yearly passes to the "Private Beach" are available. As a guest of our Villa Happy Gator you are invited to use our family pass and have access to this secret attraction. The pass is valid for up to 6 persons.
The Ferry Captain will meet you at the landing located at 4800 Lemon Bay Drive, less than a 5 minutes drive from Villa Happy Gator. There is a large parking lot. The private Ferry to the Beach leaves every half hour beginning at 9:30am, everyday but Wednesday, when the Captain takes a day of rest and volunteers make boat repairs and upkeep.
If you like to get an impression of the ferry ride and the beauty of our "South Venice Private Beach", please take a few minutes and watch our picture presentation.