Vegetarian and Vegan in Florida
Everybody loves going out to dinner, especially when you are on vacation. Venice and surrounding has a large selection of great restaurants and cafes, so that everyone will surely find their favorite spot. What we love is that many are also prepared for vegetarians and vegans. Let us present our top 5 restaurants, which have plant-based treats on the menu – vegetarian and vegan in Florida is easy!
1. Seed to Table – All Vegan Restaurant
Their Menu is composed of some of the favorite foods that they like to make at home and some from their favorite eateries in NYC & NJ.
The Christopher and Kimberly strive to provide you with the most healthy and appetizing food they possibly can. Everything they serve at Seed to Table is made with whole foods, organic ingredients, purchased locally whenever possible.
If you love food as much as they do or are looking to begin a healthy lifestyle then Seed to Table is for you! Seed to Table provides Pure. Good. Eats.
They also offer online ordering and deliver to your place in Venice, North Port and Port Charlotte.
2357 S Tamiami Trail
Venice, FL 34239
941-799-7137
eatseedtotable.com
2. Island Organic & Smoothie
This is the place number one to get a delicious smoothie or a juice made with organic fruits and vegetables. They also offer a lunch menu and breakfast menu with so many great options, you will find it hard to choose. Be sure to try the pecan honey salad or the spinach salad!
Owner Alexa's mission from the start has been to provide you with the best quality food in a fast-casual setting. At Island Organic they always try to get everything organic, local and fair trade when possible. You will find options for gluten free, vegan, and vegetarian diets.
231 W. Miami Ave
Venice Fl 34285
941-484-3565
islandorganicssmoothie.com
3. Veg and Grill – "Veg"
The "Veg" in Sarasota is a hidden gem. Enjoy fresh and delicious food from appetizer to desert. Try the Portobello mushroom burger and with vegan coleslaw and you will be excited. On hot summer days their berry sangria is just irresistible. They also carry great organic wines.
This Grill is definitely a must for anyone who enjoys high quality vegetarian, vegan or seafood dishes.
2164 Gulf Gate Dr
Sarasota FL 34232
941-312-6424
vegsrq.com
4. Café Evergreen
Annette's and Ted's personal philosophy is to be a leader in healthy foods and drinks that are fresh, great tasting and unique. You have lots of choices…something for vegans, vegetarians and meat lovers. Never boring, always changing and always delicious.
How about tasting baked sweet potato fries or a Kefir Mojito? You will be thrilled. At Café Evergreen they take things that people like and give them a healthier option.
Their food at the café is so vibrant and colorful because it is FRESH! When you use fresh ingredients there is always a difference you can taste.
801 Tamiami Trail South
Nokomis, FL 34275
941-412-4334
cafeevergreen.net
5. Baiyoke Thai Bistro
Famous for their great Sushi and Thai dishes, at Baiyoke also vegetarians and vegans will find a variety of delicious options. They are very proud to serve only the freshest and finest ingredients.
You will experience the liveliness and excitement of their exhibition kitchen. The extraordinary fast and friendly wait staff will happily help you to compose a plant-based meal.
1829 S Tamiami Trail
Venice, FL 34293
941-408-8141
baiyokethaisushi.com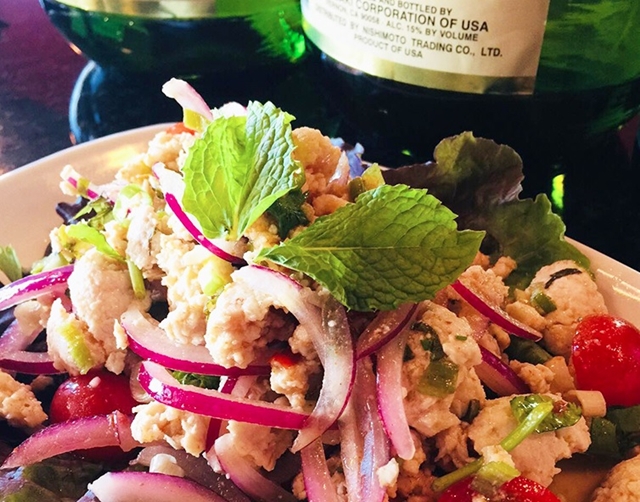 More ideas for vegetarian and vegan in Florida
Besides these 5 locations, a lot of other restaurants have plant-based options on their menu or are pleased to serve you a special order. The following list should give you an inspiration, but is not complete:
– Blu' Island Bistro, Venice
– Bodrum Restaurant, Venice
– Café Longet, Venice
– Canton Chinese, Venice
– Cassariano Italian Bakery, Venice
– Croissant&Co, Venice
– Crow's Nest, Venice
– Fins at Sharky's, Venice
– First Watch, Venice
– Joy's Kouzine, Venice
– Mad Dog Hot Dogs
– Made in Italy, Venice
– Mango Bistro, Englewood
– Suncoast Café, Venice
– Thai Bistro, Venice
– The Original Word of Mouth, Venice
– Tikka Indian Cuisine, Venice
– Trattoria da Mino, Venice
– Upper Crust Café & Bakery, Venice