10 Things to do with Kids in Venice Florida
Venice, the City on the Gulf, is the perfect place for a vacation with the whole family.
You are looking for ideas what to do with kids? Let me present 10 great ideas for kid's activities in and around Venice Florida:
1. Looking for Shark Teeth
Who finds the most? Who find the largest one? Kids and adults alike love looking for Shark Teeth. All beaches around Venice are wonderful for the search for the fossil shark teeth. However, the greatest success in finding them you will have at our private beach, which you can reach with our South Venice Beach Ferry. The only visitors of this piece of paradise come with the ferry, so this beach is never overcrowded. Bring our "Shark Tooth Sifter Tool" and we guarantee you will find them – Fossil Shark Teeth of Venice!
Learn more about Fossil Shark Teeth Here

2. Children's Fountain in Venice
All kids love this water attraction. Be prepared – they could spend hours! The interactive fountain is located on 200 W. Venice Ave in Centennial Park near the Gazebo.
Please visit the Venice site for more info.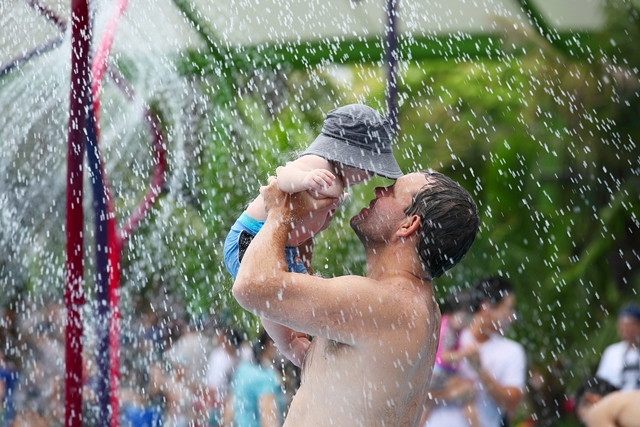 3. Mote – Marine Laboratory + Aquarium in Sarasota
Explore the secrets of the sea through touch pools, viewable-working labs and high-tech interactive exhibits that showcase the world-renowned research of Mote Marine Laboratory. See sharks, manatees and sea turtles, along with more than 100 other species of marine life. Especially families love interactive, hands-on eco-adventures on the Sea Life Encounter Cruise.
Please visit their website mote.org.

4. Big Cat Habitat and Gulf Coast Sanctuary in Sarasota
This large-animal rescue is located in eastern Sarasota County. Founded in 1987 by Kay Rosaire, the nonprofit sanctuary is a permanent home for dozens of exotic animals, offers placement for animals in need, and works to educate the public about animal care and conservation.
Please visit their website for more info.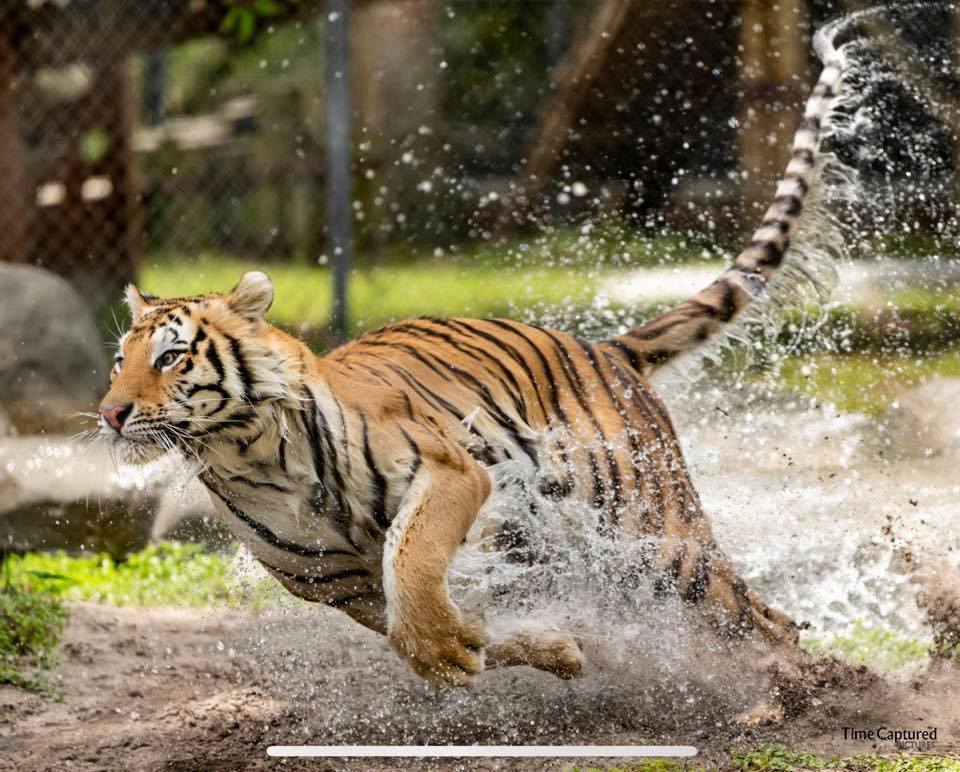 5. Kayak Rental at the Jetty
Kayak or PaddleBoard to Snake Island, around Cactus Island and Bird Island.  Take some time to pick shells or look for sharks teeth on one of the islands.  Pack a lunch and explore some of the waterfront parks and water only access parks in Lyons Bay, Dona Bay, and Roberts Bay. Or head out the inlet to the beach!  The launch site is located in a Manatee Zone so you may see dolphin, manatee and a variety of fish and birds.
Personal flotation devices come in sizes from toddler to adult.
More info on their website or find them on faceebook under venicejettyrentals.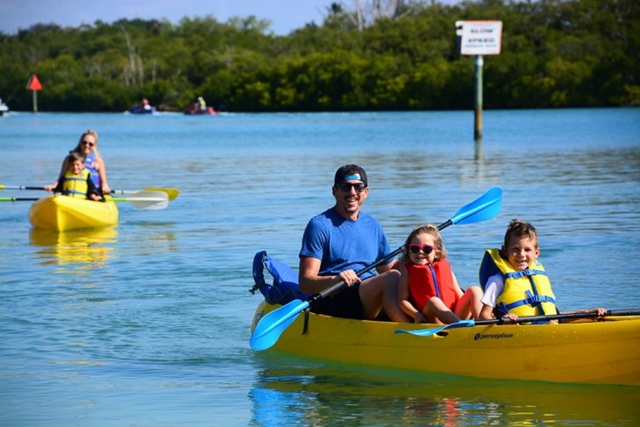 6. Dakin Dairy Farm in Myakka City
Country life is displayed at the "Dakin Dairy Farm" in Myakka City. On a guided tour through the dairy farm, visitors can learn where milk comes from. Children can breathe fresh country air, caressing little piglets and play in the hay.
For directions and opening hours, please see their website dakindairyfarms,com.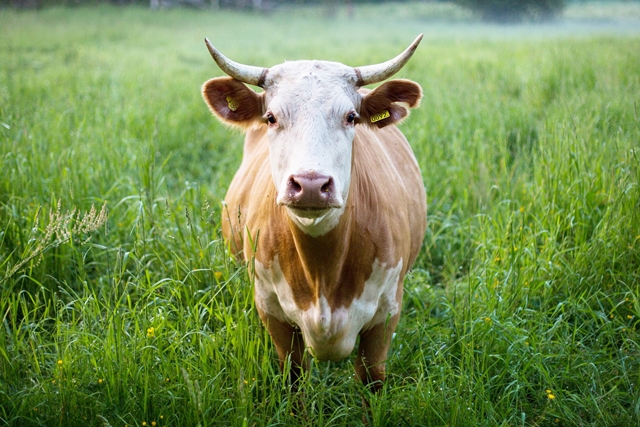 7. Airboat Ride and Gator Watch
Enjoy a real authentic Florida airboat ride! Located on the beautiful Peace River in Arcadia, Florida, they offer Peace River Airboat Tours, Private Charters and Swamp Buggy rides to the public.
Please see their website peacerivercharters.com for more info.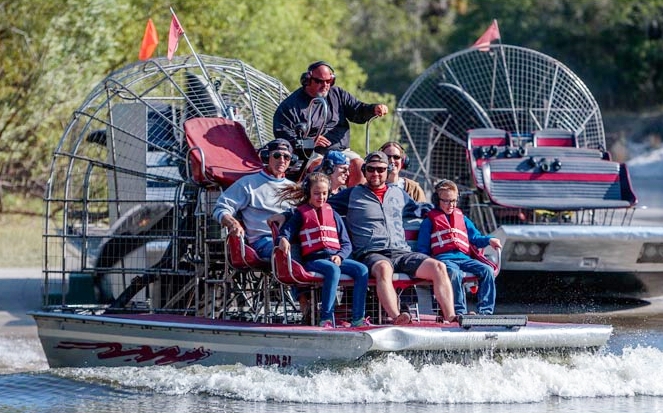 8. Treeumph Bradenton – Playtime in the trees
They got over 10 football fields of challenging terrain and hundreds of aerial adventure games. Plus, thousands of smiling faces both young & young at heart . Fly through a dense forest from tree to tree on crazy-fun obstacles that defy gravity. Get in sync with nature. Love every single moment spent with your friends and family as you experience one of the most unique attractions in Florida. Rise Above!
Learn more about them on treeumph.com.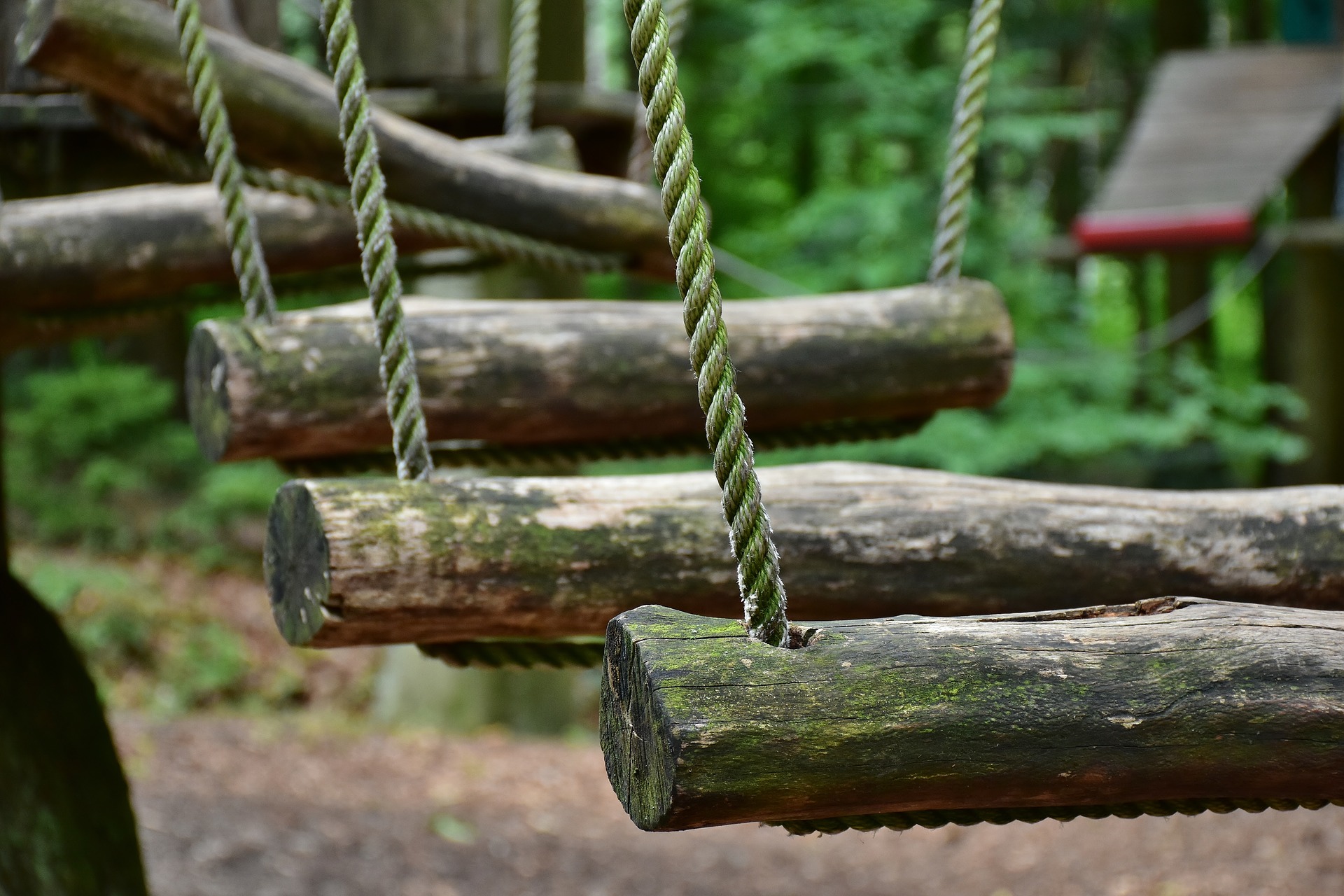 9. Sarasota Jungle Gardens
Jungle Gardens is a small zoological animal park in Sarasota on the west coast of Florida. The small zoo is nestled in a beautifully designed tropical garden with dense vegetation. Already since 1939, the Jungle Gardens with the quiet and relaxed atmosphere is the ideal destination for families with young children. You will not find great attractions or rides.
Alligators, snakes, parrots and macaws, monkeys and some exotic birds can be admired from the park visitors. Highlight, especially for the children,is the Flamingo enclosure where you can feed the proud animals out of hand.
Three 20-minute shows are offered daily, in which you can learn more about the animals (wild birds, parrots and alligators).
For more info please see sarasotajunglegardens.com.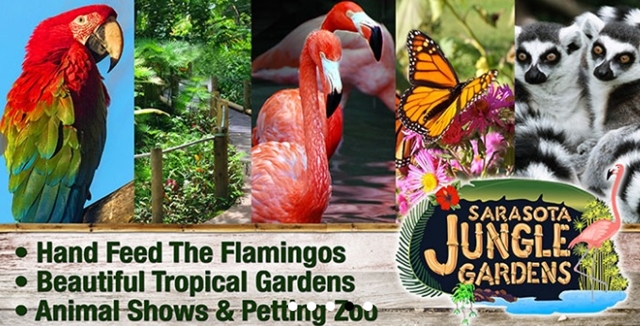 10. Indoor Fun – Skyzone
Bounce, Play and Climb Challenge
Whether it's a birthday party, an afternoon pickup game of Ultimate Dodgeball, a charity event, or just a day out with the family, Sky Zone is a place to gather with friends, family, and your community. We provide ways for people to play together, as well as spaces for parents and non-jumpers to enjoy themselves while keeping an eye on the action.
More info on skyzone.com/Sarasota